Remove Oil And Other Stains From Your Raleigh Driveway With Concrete Washing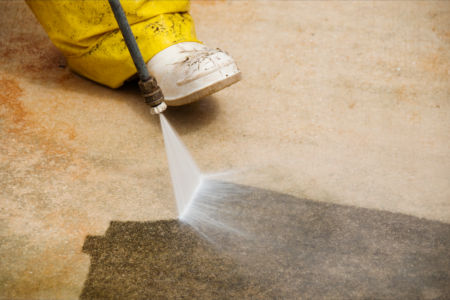 While it can be tempting to think that your concrete surfaces don't need through cleaning thanks to their durable nature and the fact that most debris can simply be swept off, concrete is highly porous, and because of this, some contaminants can slip beneath the surface where they can threaten the safety of your surfaces and cause them to deteriorate. If your home's concrete surfaces are looking dingy or have become slick, it's time to call in the skilled pressure washing professionals here at No Pressure Power Washing so you can get the concrete washing services you need to restore your surfaces. Are you looking for a professional Raleigh pressure washing company who can help with all of your concrete washing needs? If so, give our team of skilled professionals a call today and let us show you the kind of quality results that have helped make us one of the most trusted names in concrete washing and deck and fence cleaning the area has to offer.
Your concrete surfaces are a major investment for your home, and whether it's your pool deck or your driveway, you want to be sure you're investing in the kind of services you need to keep these surfaces looking great, safe to traverse, and structurally sound. Because of its porous nature, mildew and other contaminants can sometimes start to grow below the surface of your concrete, leading to slick surfaces and breaking down the materials over time. With our comprehensive concrete washing services, however, we can help you clean below the surface of your concrete to remove all of those contaminants in a way that regular cleaning simply can't do. If you have any questions about our concrete washing services, or if you would like to schedule an appointment to get your free estimate, give us a call today. Our team of experts are always standing by and ready to help.
Clean Concrete Is Slip Resistant Concrete
One of the most dangerous aspects of a dirty concrete surface is in how slick they can become, especially when you have mildew growth below the surface. By investing in a professional concrete washing service, however, you can remove these worn-in contaminants, helping to remove the slickness from your surfaces and make them safe to walk on once again. This can be especially important for concrete surfaces around water, as they can already be slick enough on their own.
---
Latest Projects
House Wash in Goldsboro, NC
We washed everything on this property all the way down to the dog house in Goldsboro, NC. This all brick house and patio was brightened by our house wash methods. When you're in need of high-qualit […]
Complete House Wash Package in Raleigh, NC
This customer committed to having their entire house revamped with our "Complete House Wash Package". We traveled to Sanford, NC to do a house wash, gutter cleaning, driveway/walkway cleaning, and pa […]
---
Recent Articles
How Professional Roof Cleaning Can Help You Sell Your House
When someone searches for a Raleigh house to buy, they are looking at everything, including the roof. If your Raleigh home has a dirty roof, it could lead potential buyers to believe that it needs to […]
3 Reasons Fall Is The Most Important Time For Gutter Cleaning
When it really comes down to it, there are many homeowners out there who don't realize how important their gutters are to the overall function of their roof. One of the best ways to ensure that your […]